November and December Accomplishments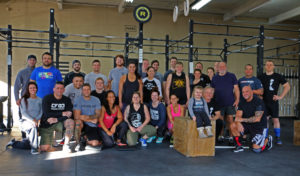 We are super excited to bring back the PR blog and show how hard all our athletes work each month! We ended 2016 strong and here's some of the accomplishments our athletes recorded the past two months!
November Accomplishments
Jessica PR'd her Deadlift at 155lbs! Ian (215#) and Nicole (200#) both set new PR's on their 3RM Deadlift! Nicole also PR'd her Strict Press at 90lbs. Dani hit a new Back Squat at 235lbs and Ariel PR'd her 3RM at 225lbs! Ariel maxed out her Snatch for the first time ever and hit 130lbs. Christian K. hit 175lbs for a 5RM Front Squat and also 155lbs for a 1RM Push Press! Jimbo (245#), Paulie (285#), and Diglio (325#) all PR'd their Power Clean!! Christian M. set a new Back Squat PR with 265lbs!
December Accomplishments
We had a bunch of Front Squat PR's to end the year with Nicole (175#), Nico (275#), Christian K. (205#), Tim (235#), Ariel (210#) and Scott (215#)! I'm pretty sure Scott has already PR'd again in 2017. He also PR'd his Deadlift at 325lbs! Nico PR'd his Push Jerk with 155lbs and I must say his form is really coming along! Christian K. also hit a new 3RM OHS at 145lbs and a 3RM Box Squat at 315lbs. Andrew V. PR'd his Back Squat at 295lbs. I see 300lbs happening very soon! Dani (175#), Paulie (265#), Diglio (315#) and Ariel (175#) all PR'd their Hang Power Clean. Ariel has been on a roll with the PR's lately and also set a new 1RM Back Squat at 240lbs, a 3RM OHS at 155lbs and a 1RM Power Clean at 180lbs. That's what HCC's Competitor Program will do for you!!
Awesome job in 2016 to all our athletes who PR'd over the entire year! Now that the PR blog is back, don't forget to write your Accomplishments on the board. Let's fill that board up in January and start 2017 on a great note!!