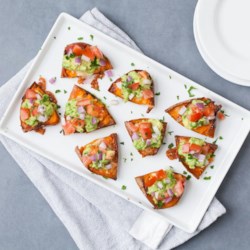 Sweet Potato Skins with Guacamole
Devon O'Brien
"Top crispy sweet potato skins with guacamole for a healthy take on classic potato skins in this easy crowd-pleasing recipe."
Ingredients
Potato Skins
4 small sweet potatoes
1 tablespoon extra-virgin olive oil
⅛ teaspoon kosher salt
½ cup shredded Cheddar cheese
Guacamole & Toppings
1 ripe avocado

1 tablespoon lime juice
1 clove garlic, minced
⅛ teaspoon salt
¼ cup chopped tomato
2 tablespoons minced red onion
Chopped cilantro for garnish
Directions
1

Preheat oven to 400°F.

2

Tightly wrap sweet potatoes in foil and place on a baking sheet. Roast until very tender, 50 minutes to 1 hour. Carefully unwrap and set aside to cool.

3

Line a baking sheet with parchment paper.

4

Cut the potatoes in half lengthwise and scoop out the flesh, leaving a ¼-inch border (save the scooped-out flesh for another use). Place the sweet potato halves skin-side up on the prepared baking sheet. Brush with oil and sprinkle with kosher salt. Bake until browned and crisp, 20 to 30 minutes.

5

Cut each skin in half widthwise and return to the baking sheet, skin-side down. Sprinkle each with 1 tablespoon Cheddar. Return to the oven and bake until the cheese is melted, 8 to 10 minutes.

6

Meanwhile, make the guacamole: Mash avocado in a medium bowl. Stir in lime juice, garlic and salt.

7

Top each sweet potato skin with guacamole, tomato, onion and cilantro, if desired.
Recipe by eatingwell.com