Easy Chicken with Tomatoes, Basil and Garlic
Easy Chicken with Tomatoes, Basil and Garlic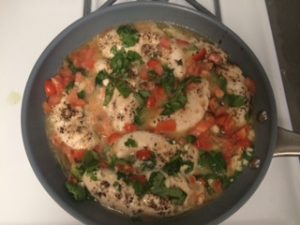 Ingredients:
1 lb. all-natural organic chicken 8-10 basil leaves, chopped 2 large tomatoes, chopped 2-3 cloves garlic, minced 1 Tbsp. olive oil Salt and pepper to taste
Instructions
Cook chicken 4 minutes per side on medium heat
Add tomatoes, basil, garlic and olive oil
Cook until chicken is done (if you have a food thermometer, chicken should reach 165F)
Serve over spaghetti squash, zucchini noodles or with a salad.
Enjoy!