Escarole & White Bean Salad with Swordfish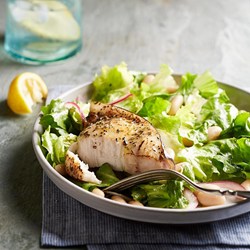 Escarole & White Bean Salad with Swordfish
Recipe By: Katie Webster "In this healthy fish recipe, meaty swordfish gets a dusting of herbs before being pan-seared. Then it's served on top of a healthy escarole and white bean salad with a lemon-Dijon vinaigrette."
Ingredients
¼ cup extra-virgin olive oil
2 tablespoons lemon juice
1 teaspoon Dijon mustard
½ teaspoon salt, divided
½ teaspoon ground pepper, divided

1 15-ounce can white beans, rinsed
2 10-ounce swordfish steaks
1 teaspoon herbes de Provence
12 cups chopped escarole
¼ cup very thinly sliced red onion
Directions
1 Position rack in upper third of oven; preheat broiler to high. Line a broiler-safe pan with foil.
2 Whisk oil, lemon juice, mustard and ¼ teaspoon each salt and pepper in a large bowl. Transfer 2 tablespoons of the dressing to a small bowl. Add beans to the dressing in the large bowl and toss to combine.
3 Cut each swordfish steak in half so you have 4 equal portions; sprinkle with herbes de Provence and the remaining ¼ teaspoon each salt and pepper. Place the fish on the prepared pan and broil on the upper rack until it just barely flakes when pressed with a knife, 8 to 10 minutes.
4 Toss escarole and onion with the beans. Serve the salad with the swordfish, drizzled with the reserved 2 tablespoons dressing.