Lurong Living Challenge Series
CrossFit HCC is participating in the Lurong Living Championship Challenge that kicks off on September 12! The Lurong Living Championship Challenge combines diet, fitness, and accountability in a fun and engaging nationwide Challenge built for CrossFit athletes and affiliates. This is where good intentions, dreams, and aspirations are given life and the opportunity to be fulfilled.
Last January, we participated in the Lurong Living Resolution Challenge which was 5 weeks long. We had 22 athletes sign up and saw some amazing results! Check out the Conclusion of the Lurong Living Resolution Challenge Blog at CrossFitHCC.com to see all the results and winners!
This time, the Championship Challenge is 7 weeks long! The Challenge begins September 12th and ends October 30th (Right before Halloween, the best cheat day ever of course!)
Registration opened August 1st and there is an early bird special until August 22nd! Along with the prizes you can win through Lurong Living, CrossFit HCC will also be rewarding our Top 3 Athletes!
We promise you will see results and have fun along the way if you participate! Just check out CrossFit HCC athletes, Scott Sisbarro and Sue Griego! Both athletes not only work extremely hard at CrossFit, but the last challenge taught them about dieting and nutrition which has helped them come even further in living a healthy lifestyle! Scott has lost 40lbs and was taken off 4 different medications for high blood pressure, pre diabetes, chronic pain and cholesterol and Sue has lost 35lbs!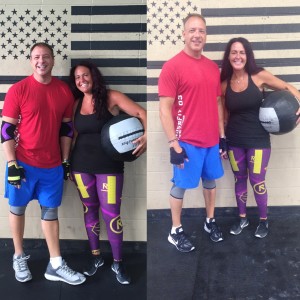 If you have any questions, see one of the coaches. Sign up now at https://challengeseries.lurongliving.com and make sure to register under CrossFit HCC!