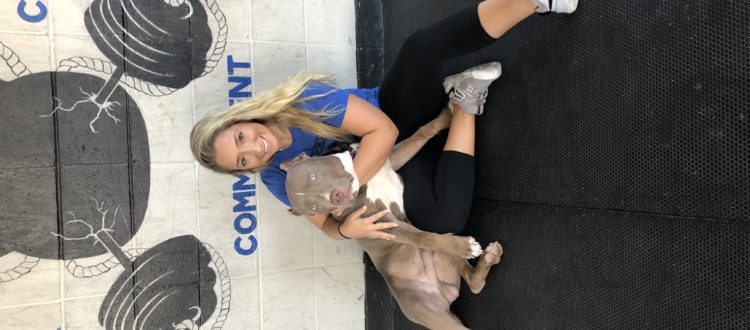 September Member of the Month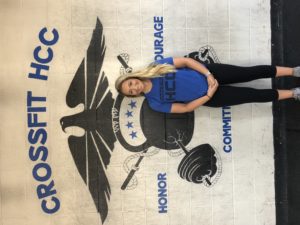 Congratulations to our September Member of the Month, Kaitlin Bannon! Kaitlin started CrossFit at HCC almost a year ago and has been one of our most consistent athletes since the day she walked into the door! You can usually find her talking and giggling during class but once the timer starts she is always pushing herself and everyone around her! Her "Pulse" effort shows her hard work when she consistently stays in the red zone. We love having Kaitlin's positive attitude in class everyday & can't wait to see all the accomplishments she makes in her second year of CrossFit!!
Here's a few words from Kaitlin:
Why do you do CrossFit?
CrossFit challenges me both mentally and physically. When I workout, I want to push myself and work as hard as I can. CrossFit allows me to do that because the workouts are such high intensity. The coaches, people, and environment are so encouraging and push you to do your best. I love how the workouts are different everyday so things don't get boring. CrossFit has also made me a better athlete overall. I can run faster, lift heavier, and do things that I thought I couldn't.
Favorite Move: 
I love deadlifts and burpees!
What makes you stay at CrossFit HCC?
The people!! Joining a new gym can be intimidating at first but from the day I started I felt welcomed by everyone. It is such a positive environment and I look forward to going everyday. I have made some of the best friends through CrossFit HCC. We also have the best coaches who take their time breaking down movements and form while keeping classes fun! (There are also very cute dogs that I look forward to petting everyday.)
Future Goals:
My goal is to always be the best version of myself. I want to work on my weaknesses like flexibility to become a more well-rounded athlete. I hope to inspire others to join CrossFit because it has made such a positive impact on my life.
Advice for newbies?
Have fun!!! Don't take things too seriously and make it the best hour of your day.
Tell us a fun fact or something you do outside of CrossFit?
When I am not at CrossFit, I like to spend time traveling and doing things outdoors like white-water rafting, hiking, and running. I also graduated from Quinnipiac in May and started a full time job as an ICU nurse.
Words from Kaitlin:
Thank you to everyone at CrossFit HCC- coaches and members for making every class the best. I leave everyday smiling. Thanks to HCC, I have achieved so many fitness goals and become a happier and healthier person.