February and March Accomplishments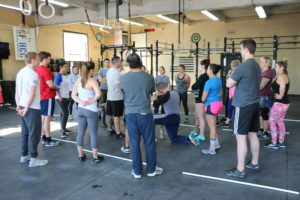 Great job to everyone who competed in the 2017 CrossFit Opens!! It is always exciting to see our athletes push themselves and realize they are capable of more than they think!
February Accomplishments
Christian PR'd both his Front Squat (215lbs) and Back Squat (255lbs) as well as his Push Press (165lbs)! Anastasia, February's Member of the Month, hit a new 1RM Front Squat at 175lbs and a new 1RM Push Press at 130lbs! Nico also PR'd his Push Press at 155lbs and so did Ed at 230lbs! Nicole and Katie both PR'd their Clean and Jerk at 145lbs! Abby PR'd her Clean and Jerk at 135lbs & Ariel PR'd hers at 190lbs! Ariel also hit a 220lb Front Squat for a new 1RM! Coach Mike did the Hero WOD "DT" and PR'd with a new time of 7:12!
March Accomplishments
Nicole had multiple PR's last month with a 5RM Back Squat at 175lbs, 1RM Front Squat at 180lbs, 3RM OHS at 135lbs and a 1RM Squat Snatch at 115lbs!! Katie PR'd her Back Squat at 200lbs and she also hit a 145lb Hang Power Clean! Katie (100lbs), Maria (100lbs), Murph (80lbs) and Hayley (105lbs) all PR'd their Strict Press. Hayley also PR'd her Back Squat at 190lbs. Murph PR'd her Power Clean at 150lbs! The girls at HCC are working hard & getting strong!! Deida hit a new 1RM Squat Clean at 245lbs! Marcy did her first Rope Climb and then did 2 in a row the next day!! The CrossFit Opens had Bar MU again this year with 17.2 and we had three athletes get them for the first time!! Nice job Abby, Hayley and Christian!!! We also saw HEAVY Snatches in 17.3 and Congrats to Tim who PR'd his Squat Snatch at 135lbs at the end of the WOD!
We know the Opens can get hectic so awesome job to everyone who continued to work hard throughout! Spring is upon us & we can't wait to get those garage doors open! Don't forget about our new class time at 4:30 PM!!