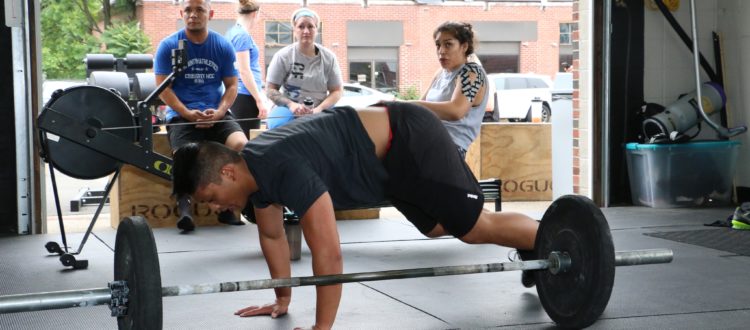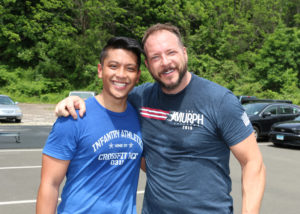 Congratulations to Andrew Villabona for being selected as July's Member of the Month! You can usually find Andrew in the 9:30AM class smiling and always attempting a new PR! Andrew first started CrossFit a little over a year ago and he instantly became hooked, attending class almost every day & now he spends time after class working on weaknesses. Andrew is now capable of completing almost every workout Rx & he recently got his first Bar Muscle Up!! Andrew's hard work and dedication is really paying off!
A few words from Andrew..
Why do you do CrossFit?
I've always been pretty active growing up. After graduating college, I wanted something new to stay fit and decided to drop by CrossFit HCC on a whim. I've heard stories of how intense CrossFit is and was a little intimidated. However, from the very first day, I was hooked. I've been able to do lifts and learn movements that I'd never imagined I would be able to do. That moment after PRing a heavy lift or when you're on the floor after a tough workout is one of the best feelings. I think for me, CrossFit is about improving myself both physically and mentally and that's why I try to go as often as I can.
Favorite Move?
Clean and Jerk, mostly any Olympic Lifts. I love how complex the movements are and how technique really plays into the lift. It really teaches you to be patient and disciplined in order to piece together the individual parts of the lift.
What makes you stay at CrossFit HCC?
Honestly, it's the people. From the coaches to the members, there's not one person I'm not happy to see whenever I step into the gym. The coaches are always there watching you, helping you out when they see something that needs improvement. Everyone is always cheering each other on to finish a long, tough workout. CF HCC gives off a very familial 'vibe' which I'm lucky to have at the gym.
Future Goals?
Ring Muscle Ups and to be able to lift more than Coach Courtney.
Advice for newbies?
One thing that's stuck for me is something that Coach Matt has said to all of us at one point. "Start being comfortable with being uncomfortable". A lot of times you'll feel like quitting because it's too hard or you're tired but it's important to look at the person you will become after and how you deal with being uncomfortable. Learn to put your trust in the coaches and more importantly, trust in yourself.
Tell us a fun fact or something you do outside of CrossFit?
I'm actually going back to school to do a one-year nursing program at Quinnipiac starting at the end of August and hope to find time to come workout. I'll probably need it to de-stress..
Words from Andrew..
As I'm writing this, it's been exactly one year since I started at CF HCC. I've learned so much throughout the year, met so many great people, and have improved myself in so many ways. I'm grateful for my time here at CF HCC and am looking forward to what's to come!