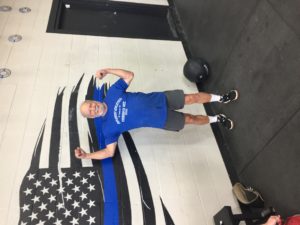 We are excited to announce that the May Member of the Month is Gary Wilson. Gary joined us in January 2016 and has been a predominant part of 5:30 class ever since! Gary amazes us each and every day with his can-do attitude and willingness to learn. Gary always pushes himself to achieve the class exercises and lets no movement hold him back. You can often find him offering a compliment to fellow athletes, dressed in the latest apparel and cracking a joke. Gary has hit many achievements in his 15 months with CF HCC. His first ever class he did a 75lb Back Squat for 2 Reps. He's now doing 5 Reps at 205lbs. He also recently PR'd his 1RM Push Press at 165lbs!
We are so happy to have him as part of our community and cant wait to see what summer and the rest of 2017 brings for him!
Here's some words from Gary..
Why do you do CrossFit?
Sometimes I am surprised. Never having been in a fitness program like this. I have noticed a big change in strength and especially in flexibility I did not expect. The main reason I enjoy CrossFit is definitely thes team of instructors. They are all skilled and each one is different but just as skilled. They make the appropriate modification for me without ever making me feel inadequate. The other reason is the family sense given by other members. Everyone is very encouraging and fun to workout with. The environment built by Matt and his team, Paul, Courtney, AJ, TJ, Mike, Keith, and Nicole is the best. I would not go anywhere else.
Favorite Move:
That is a hard one – probably the back squat. Asking me which ones I don't like, but hope to improve would be Inchworms, Bulgarian Squats, Burpees, and Pull Ups. I think all are designed to keep me at the gym. (Don't worry, you will have me for a long time haha!)
What makes you stay at CrossFit HCC? Future Goals?
I think I answered these but I want to lose weight this year.
Advice for Newbies?
Record your progress. When I first joined, I was measured for one of the challenges. One month later, I was measured again and I could not believe the changes. I suggest every new member get measured and do some basic exercises like sit-ups, push-ups, rope jumping (couldn't do two in a row when I started), and 400 meter run —-these were all exercises we did when we were younger (I wrestled in High School and College and in my 40's ran two marathons.) Not being able to do any of these things when I joined was sobering. I can do them all now and I keep a record because I know I will be better as time goes on. The other word of advice is to keep trying – don't get caught up in the fact that everyone can do better than you (at this gym, they don't care and they always encourage you). Just keep up your good work, flexibility and strength don't happen overnight.
Tell us a fun fact or something you do outside of CrossFit?
I like to play squash and tennis in that order. I love to cook and I tutor children in reading at "New Haven Reads". I keep up in my field of biotechnology in my consulting business. I am also an avid Scuba diver with about 350 dives all over the world.
Words from Gary:
Do not judge CrossFit by what some people say like "Oh I think that is dangerous". The instructors and fellow members watch like hawks and make sure you are doing things safely, correctly, and with the proper weight. There is no macho attitude. Also, do not judge CrossFit by experiences you have had at other CrossFit gyms. This gym is different. You will know that after your first workout. The instructors and the other participants are like family here at CrossFit HCC.