Conclusion of Lurong Resolution Challenge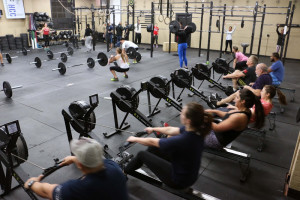 On January 18, 22 athletes at CrossFit HCC began the five week long Lurong Resolution Challenge that was geared towards fitness and nutrition.
First and foremost, I just want to say how proud I am of each and every athlete that participated. The dedication and progress made by all you was outstanding and you are all winners in my eyes! I watched athletes push themselves in workouts like I've never seen before, I received text messages of excitement over shedding pounds, and watched you guys try different foods and enjoy them!
As a team we placed 50th out of all the other teams!!! Our little box made it in to the Top 50 because of you guys and all your hard work!!
Here are the Top 3 individuals at CrossFit HCC. It was an extremely close race between the Top 5 throughout the entire five weeks. David King placed 3rd with 2578 points. King lost almost 10lbs and improved on the R16 Cluster workout by 12 reps! King won a CrossFit HCC Thermal. Andrew Clifford placed 2nd with 2598 points. Andrew and King went back and forth between first and second place for the majority of the competition. Andrew gained most of his points through his diet with 1017 points. For the most part, his diet matched the elite category. Andrew also lost almost 15lbs! Andrew won a CrossFit HCC Zip Up. Congratulations to Scott Sisbarro for taking 1st place!! Scott ended the challenge with 2613 points. Scott was not at the top of the leaderboard until the end. I spent a lot of time with Scott through the five weeks coaching him. He almost passed out on me a couple times, trying to adjust to the new diet. Scott completely changed his diet the day the competition started. He posted an elite diet almost every day. Sticking to this elite diet, caused Scott to be the most improved which skyrocketed him to the top of the leaderboard. Scott lost almost 25lbs!! He also improved in the R16 Cluster Test by 16 reps. Scott won the Beats by Dre Wireless Headphones. Join us tomorrow night, between the 5:30 and 6:30 classes to reward them with their prizes. We also have a small prize for each and every one of you that participated. Congratulations to the Top 3 as well as the rest of you! Can't wait to see what next year's challenge brings!
I think the greatest lesson everyone learned throughout the challenge is that if you set your mind to something, you can be successful. Let's continue that success over the next year.
We want to help you guys continue setting goals, so now when you walk into the gym you will see the white board near the door with the headline "Goals". Write down one goal or as many goals as you would like. It could be about anything and doesn't necessarily have to be related to CrossFit. Let's continue to help each other live healthy lifestyles and improve every day!
"The only thing standing between you and your goal is the bullshit story you keep telling yourself as to why you can't achieve it. One small positive thought in the morning can change your whole day."
Here are all the athletes that participated:
Andrew Clifford, Courtney Bothwell, Dave Cook, David King, Mena Bonfiglio, Gary Wilson, Hayley Spragg, Jerry Cao, Jim Falco, Jose Rivera, Josie Peralta, Keith Mello, Kelly Yeomans, Kyle Delucia, Marcy Colasanto, Maria Cook, Matt Mello, Mike McManus, Nicole Lambusta, Scott Sisbarro, Stefanie Beauvais, Sue Griego