December and January Accomplishments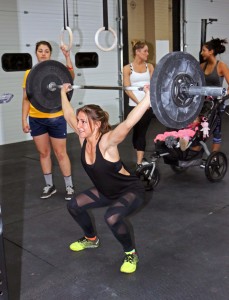 The past two months were busy with the holidays and other events but our athletes didn't slow down with the PR's.
SQUATS FOR DAYS
There were a ton of Back Squat and Front Squat PR's! Maria (215), Jim (325), Coach Court (255), Scott (245), Sue (115), Michelle (105), Hayley (165), and Paige (240) all hit a new 1RM on their Back Squat. Andrew (205), Sue (105), Nicole (145), Jose (275), Ed (335), Kelly (115), Fumiatti (305), Josie (215), Hayley (135), and Paige (215) all PR'd their Front Squat. Both Paul (205) and Paige (175) PR's their Overhead Squat!
WEIGHTLIFTING
There were a bunch of Push Press PR's! Maria (135), Kyle (245), Mike V. (225), Dube (265), and Murph (115) all hit a new 1RM. Nicole PR'd her Push Jerk at 125lbs! Andrew PR'd his Thruster at 155lbs! Jim hit a 245lb Squat Clean and Paige hit a 180lb Clean and Jerk! Nicole PR'd her Hang Power Snatch and 95lbs and Coach Court hit a 155lb Squat Snatch!
Classes have been jam packed lately. Good luck to all our athletes who are participating in the Lurong Resolution Challenge. I see a bunch of changes already. The CrossFit Opens are coming up next!
"Excellence is never an accident; it is the result of high intention, sincere effort, intelligent direction, skillful execution, and the vision to see obstacles as opportunities."