February and March Accomplishments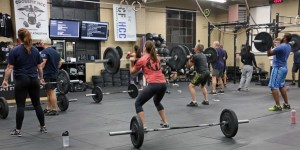 The past couple months have been hectic with the CrossFit Games Opens. I just want to say how proud I am of all the athletes that signed up and especially the athletes who competed for the first time. For majority of the athletes, it was their first time competing in the Opens and it was amazing to watch each and every one of them push themselves like I have never seen and have fun doing it. Can't wait to see what next year brings! Now on to the accomplishments for February and March, there were a ton!!
WEIGHTLIFTING
There were a bunch of SQUAT PR's that last two months and some of these people have hit new PR's in April already! Victoria (145#), Abby (165#), Ed (415#), Jasmine (210#), Karen (115#), Marcy (125#) all PR'd their 1RM Back Squat. Cat PR's her 3RM Back Squat at 115lbs! Court (235#), Paul (285#) and Kyle (265#) all PR'd their 1RM Front Squat. Nicole (130#), Scott (105#), and Jose (165#) all PR'd their 1RM OHS. There were also a ton of Deadlift PR's. First off, I just want to say how proud I am of one of our athletes. Tina PR'd her 1RM Deadlift of 95lbs in February and then in March she really pushed herself and hit 115lbs for 5 reps and then got 135lbs for a new 1RM! Awesome job girl!! Marcy (135#), Scott (285#), Derphys (305#)  and Karen (125#) also PR'd their 1RM Deadlift and Cat and Deanna both hit 115lbs for 5 reps! I also want to give a special shout out to Deanna who did all 55 Deadlifts at 95lbs in 16.4! Jono (285#) and Karen (75#) both PR'd their 1RM Push Pres and Ed (245#) and Scott (165#) PR'd their 1RM Push Jerk! Coach Paulie has been training his ass off and hit a 225lb Clean and Jerk in February and then hit a 20lb PR in March with 245lbs! He also hit the 200# club with a new 1RM Squat Snatch. He's definitely getting ready for #2017. Jasmine also PR'd her 1RM Clean and Jerk at 165lbs and Jimbo hit two TNG Cleans at 215lbs. Jasmine (120#) and Coach Court (145#) PR'd their 1RM Power Snatch. Jasmine has continued to hit PR's even while going through the Police Academy! Last but not least Coach AJK hit an easy 300lb Thruster!
Andrew has been a member from the very beginning and I have never seen someone work on DBU's so much in their life. He was determined to get them and tried every progression he could find. Well it finally clicked and he got 57 unbroken! Congrats Andrew, your hard work paid off. Jimbo also hit a new DBU PR with 100 Reps unbroken. I am extremely proud of Scott and Sue for doing Over the Bar Burpees in both 16.1 and 16.5. They were tough workouts and they completed both with no problem! So we all know that 16.3 came with a new movement: Bar Muscle Ups. Another movement Andrew has been working on. Well he got his first one right before he started 16.3 and then did 3 unbroken mid workout. He absolutely crushed it. Jasmine also got her first Bar MU during 16.3! All those pull ups in the academy are paying off! Fumiatti got 2 Bar Muscle Ups unbroken and Jimbo was able to cross his goal of consecutive Ring Muscle Ups off the Goal Board after hitting 3 Unbroken! Coach Court also hit 5 unbroken Strict Ring Muscle Ups. Abby was able to Rx her first ever open workout after doing C2B throughout the entire 20 mins of 16.1! Muscle Ups will be in her near future.
Each and every one of you continue to amaze me with your dedication and hard work! Continue pushing yourselves over the next year because I cannot wait to see the improvements during the 2017 CrossFit Opens!
"Strength doesn't come from what you can do. It comes from overcoming the things you once thought you couldn't."