February Member of the Month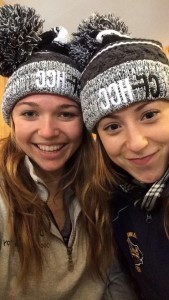 Our February Member of the Month is Hayley Spragg!
Hayley is the quiet, energetic, faithful crossfitter in 5:30pm class keeping us all on our toes. She stays late to work on anything she hasn't mastered yet. In such a short time she has become one of the most consistent athletes at the gym.
Whether she is working hard on her reps during the WOD, practicing her double unders before class or cheering on her fellow athletes, Hayley is in it to win it!
She has showed her true dedication and competitive side with the Lurong challenge. She has managed to remain top 5 for most of the challenge so far. She is eating clean, working hard, and motivating others to achieve new records.
We are proud to have her on our team and can't wait to see what 2016 brings for her.
Here's a word from Hayley:
I started CrossFit a little over a year ago when I became very bored at a regular gym and Nicole suggested that I try it out. I had no idea what I was getting myself into, but it was one of the best decisions I've ever made. Even though I could barely walk or move my arms the days following my first WOD, I wanted to go back for more. There are so many things that I love about CrossFit, that I do not know how to put into words, but what made me stay dedicated to CF HCC are the amazing coaches and the athletes that I see every day. I have missed the team aspect of sports for so long because that is what I grew up with. CrossFit and this gym have given me the opportunity to be a part of a team again. I have learned so much from all of the athletes because every one of them has something different to offer and their achievements motivate me to work harder. CrossFit has become my outlet after a long stressful day of classes and work, where I do not have to think about anything besides getting that one last rep. I have seen huge progress in my strength, endurance, and energy throughout the day in just a few months after consistently going to classes. I am doing complex movements and lifting way more than I had ever thought possible—it is the best feeling in the world when you reach a goal that your body would have never been able to handle before and your mind thought was impossible. I love going to CF HCC every day and can honestly say that I am one hundred percent hooked.