January Member of the Month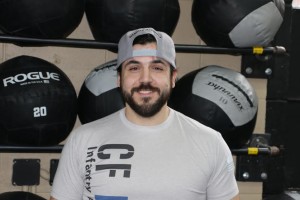 Our first Member of the Month for the new year is Jim Falco! Jim has been with us for almost a year now and continues to improve every day. Jim is one of our most consistent members. You'll usually see him in the 5:30 class, always showing up early, ready to go! Jim always gives his all in the workouts and cheers on the athletes if he finishes first. He has become a good friend over these past months and we enjoy having him at the gym, continuing to set a good example to the other athletes.
Here's a word from Jim:
I started CrossFit four years ago.  After dealing with an illness for 3 years prior, I was finally well enough to get back into shape.  I started going back to the gym, but I was having trouble getting back into a routine and continually motivating myself to go every day.  My sister then suggested that I try CrossFit.  She knew that the scheduled nature of CrossFit and the fact that the works outs were posted everyday would be conducive to what I was looking for.  As soon as I completed my on-ramp course, I was hooked.
I have played on competitive sports teams my whole life.  I played soccer from the time I was six, all the way through high school, and a bit in college.  While in college, I then started playing club rugby at Tulane University.  I love being part of a team.  There is something about the camaraderie and being able to compete against and challenge your teammates that I thrive off of.  This is one of my favorite aspects of CrossFit.  Working out with a group a people that are continually pushing each other to be better allows for a fun and exciting atmosphere.  Working out by yourself can get tedious and boring.  I love working out with something at stake, whether it be the clock, or competing against someone else in class.  When I came to HCC a little less than a year ago, it was the community aspect that truly stood out at first.  Everyone welcomed me with opened arms, and really made me feel like a part of the HCC family from the very beginning.  This once new community of like-minded athletes, I am glad to say, has become great friends that continually help me to get better every time I walk into CrossFit HCC.
After periodically coming to CrossFit for only a couple weeks at a time, due to health issues, I have now been able to consistently come to the gym over the past four months or so.  In these four months, I have truly seen a difference in all aspects of my fitness.  This is due in large part to the coaches.  Every single coach at HCC is constantly trying to make all of the athletes better.  Even if the other coaches are there and not coaching, they are always giving helpful tips and critiques during our lifts and while Wodding.  The attention they offer to all of us, truly makes a difference.  All of my lifts are stronger, my metcon times are getting shorter, and I am completing movements that I could not do in the past.
I love coming to HCC every day.  I get anxious and upset if I have other appointments or something that gets in the way of me going to the gym.  Otherwise, I am there at 5:30 every day during the week, ready to give it my all and "embrace the suck".  One of the best things that I have learned while at HCC is that I can push myself farther than I think, to that next level that seems unreachable.  This is not only true for CrossFit, but in life as well.  I have a gone through some tough times over the past few years, dealing with health issues and some personal ones as well.  To get through it all, I approach life like all of my workouts.  I know parts are going to be tough, and some are even going to be truly sucky, but if I put my head down, push myself, and believe I can surpass my limitations, anything is possible.