November Athlete of the Month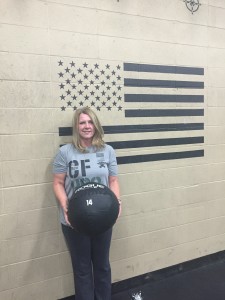 November's Athlete of the Month is Kelly Yeomans. Kelly joined us a little less than a year ago. She did boot camp classes prior to CrossFit which didn't incorporate barbell movements. Fast forward to present day and you will always find Kelly in our 6:30 class doing cleans, snatches, front squats, you name it! She is always consistent and has made so much progress! She recently hit a new personal record on her back squat this month! I've had the chance over the past two months to really get to know Kelly and all I can say is she is the sweetest and most caring person and of course we have the same mutual love for pitbulls! On behalf of all the coaches, we love having Kelly as an athlete and watching the progress she continues to make!
Here's a word from Kelly:
I joined CrossFit because I knew I needed to do something and a friend suggested I try it. I thought that friend was crazy, I'd seen videos of CF and knew that I could NEVER do that. Well, I tried it and 9 months later im hooked! I love the feeling of accomplishment I get after completing a WOD. One of the reasons I love CrossFit is because it provides me with a total body workout. I'm in my 40s and I've never been in better shape. I'm still not where I want to be but, I know with more hard work, the support of the coaches and the other athletes, I will be soon. I get so much more out of a 14 minute AMRAP then I ever would walking/running on a treadmill or using a bunch of fancy machines at a traditional gym. I like working out in a group setting and the coaches at Crossfit HCC who motivate me to push myself harder than I ever thought I could!
*Results may vary from person to person.